Shama (There)//شامْ(ا)//שמה by Thalia Hoffman
This video is no longer available for viewing.  It was presented from April 1-30, 2023 as part of the video art screening program Dancing on Tec(h)tonic Plates.
Table of Contents
Dancing on Tec(h)tonic Plates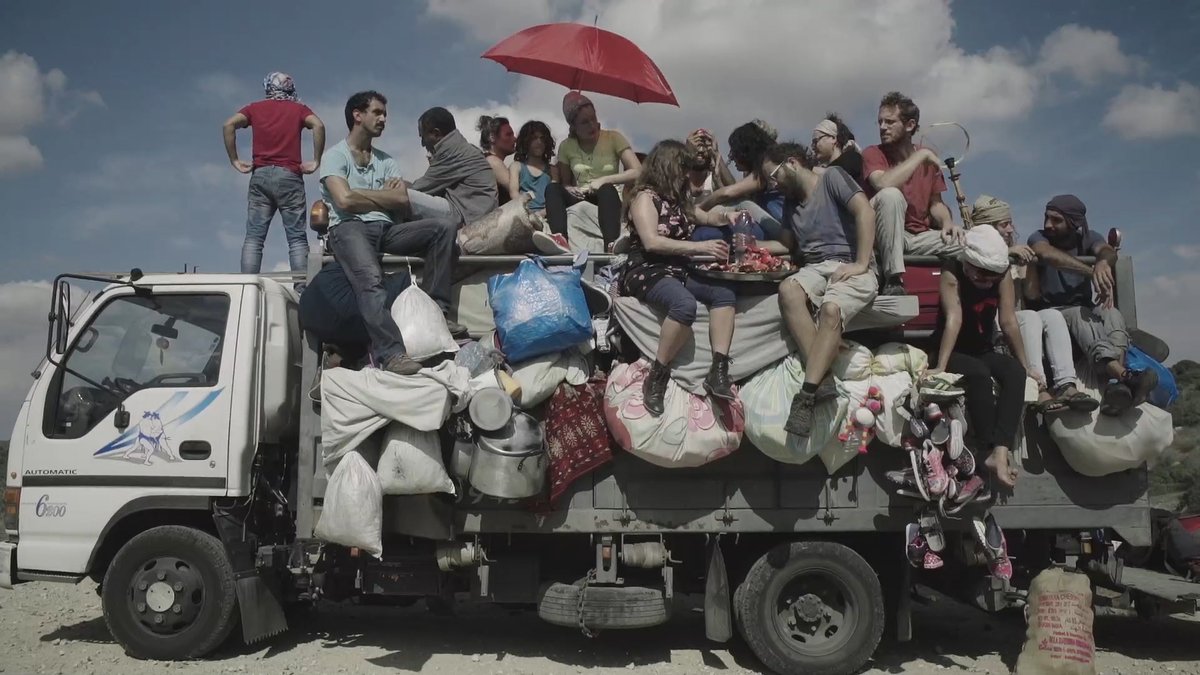 About the Work
During the course of 24 hours, people and cargo pile into a truck that is located on a refugee trail in the Judea-plain. Women and men of different ages, speaking Hebrew and Arabic, jump into the back of the open truck, one after the other. They huddle together as more and more is loaded onto the truck, which stands still. Stuck in between past and future, this moment of confusion slowly unfolds into a metaphor for life. 
Shama (There)//شامْ(ا)//שמה is the second of a film series made as part of the Guava platform. Guava is a platform for art actions that challenge the possibility of movement and the removal of borders east of the Mediterranean. It practices a political imagination, involving the area and its residents, through film, video, performance, and participatory art.
Photography: Ran Muncaz. Sound Design: Rotem Dror. The film was supported by: Gesher Foundation, The Ostrovsky Film Fund, Zochrot and ArtPort TLV
Artist Bio
Thalia Hoffman is a visual artist and researcher living and working in Jaffa, Tel Aviv. Thalia's practice involves film, video, performance, and public interventions in the region east of the Mediterranean. In 2020, she graduated from ACPA with a PhDArts with the thesis "Guava, a conceptual platform for art-actions." The aim of the Guava Platform is to research and create techniques for art-actions that are part of Thalia's quest to live as an artist in the conflicted landscape.
Alongside her artistic actions, Hoffman is a lecturer at the University of Haifa's School of the Arts in fields of video, performance, and artistic research. In her work, Hoffman strives to involve her surroundings and engage people to look, listen, and feel their socio-political landscape. Hoffman's films, video works, and performances have been shown in exhibitions and festivals in Israel and around the world. Among them are presentations of  work at the Tel Aviv Museum of art, The Haifa Museum of art, Mamuta art and media center in Jerusalem, Beit HaGefen Art Gallery in Haifa, The Jerusalem Film Festival, Experiments in Cinema Festival in Albuquerque, NM, Aesthetica Film Festival in York, UK, and The Video-Art festival in Cairo, Egypt.