Recitative by Shir Handelsman
This video is no longer available for viewing. It was presented from May 1-31, 2023 as part of the video art screening program Dancing on Tec(h)tonic Plates.
Table of Contents
Dancing on Tec(h)tonic Plates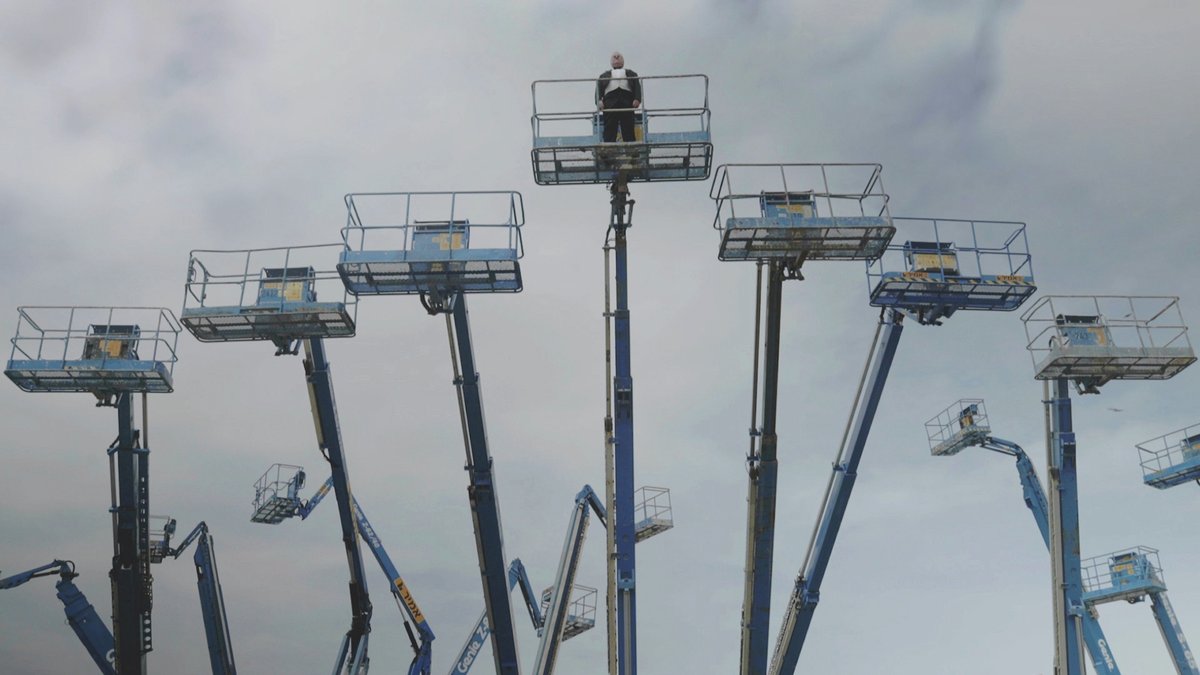 Recitative, a short video work by Shir Handelsman, presents an opera singer, standing on a platform of a lifted construction lift, and singing a martyr's wish for redemption. Around him, a group of empty lifts engages in a choreography of synchronized movements. The music, taken from one of J.S Bach's cantatas, is the Recitative Movement which describes the ascension of Christ and expresses the desire to become one with god. The work integrates the human voice and the mechanical sounds of the surrounding machinery into a new form of musical score. 
Artist Bio
Shir Handelsman is an interdisciplinary artist living and working in Tel Aviv. A former professional Jazz musician and composer, his artistic process is an attempt to perceive sound, rhythm and musical harmony as plasticity and visuality, which he explores in film, installation, sound and sculpture work. Handelsman graduated with honors from his BA studies in Literature and Philosophy at the Tel Aviv University (2013) and his BFA studies at the Department of Multidisciplinary Art of Shenkar College (2018). He is a lecturer and teacher of art history, theory and music working at the Tel Aviv Museum. 
Handelsman has exhibited solo exhibitions at the Herzliya Museum of Contemporary Art, Herzliya, Israel (2022); The Jerusalem Artist House, Jerusalem, Israel (2021); and Art Claims Impulse, Berlin, Germany (2021). He has participated in numerous group shows and film festivals, including Gyeonggi Museum of Modern Art, Ansan, South Korea (2022); Les Abattoirs Museum of Contemporary Art, Toulouse, France (2021); Out_Sight Gallery, Seoul, South Korea (2021); Eretz Israel Museum, Tel Aviv, Israel (2020); Museum of Fine Arts Osijek, Croatia (2020); Kunsthal Charlottenborg Gallery, Copenhagen, Denmark (2019); Momus Experimental Center for the Arts, Thessaloniki, Greece (2019); Aesthetica Short Film Festival, York, UK (2019); Video Art & Experimental Film Festival, New York, NY (2019). 
Handelsman is a recipient of The Pais Council for Culture and Art Grant (2021), The Independent Artists Foundation's Grant of the Israeli Ministry of Science, Culture and Sport (2021), The Grand Prix of 27th Slavonian Biennial, Museum of Fine Arts Osijek (2020), Best Experimental Film Award at the Budapest Independent Film Festival (2020), and an Excellence Grant from the America-Israel Cultural Foundation (2018).