Junkerhaus by Karen Russo
16mm film transferred to digital, B&W / sound
7:30 min, 2021
Table of Contents
Dancing on Tec(h)tonic Plates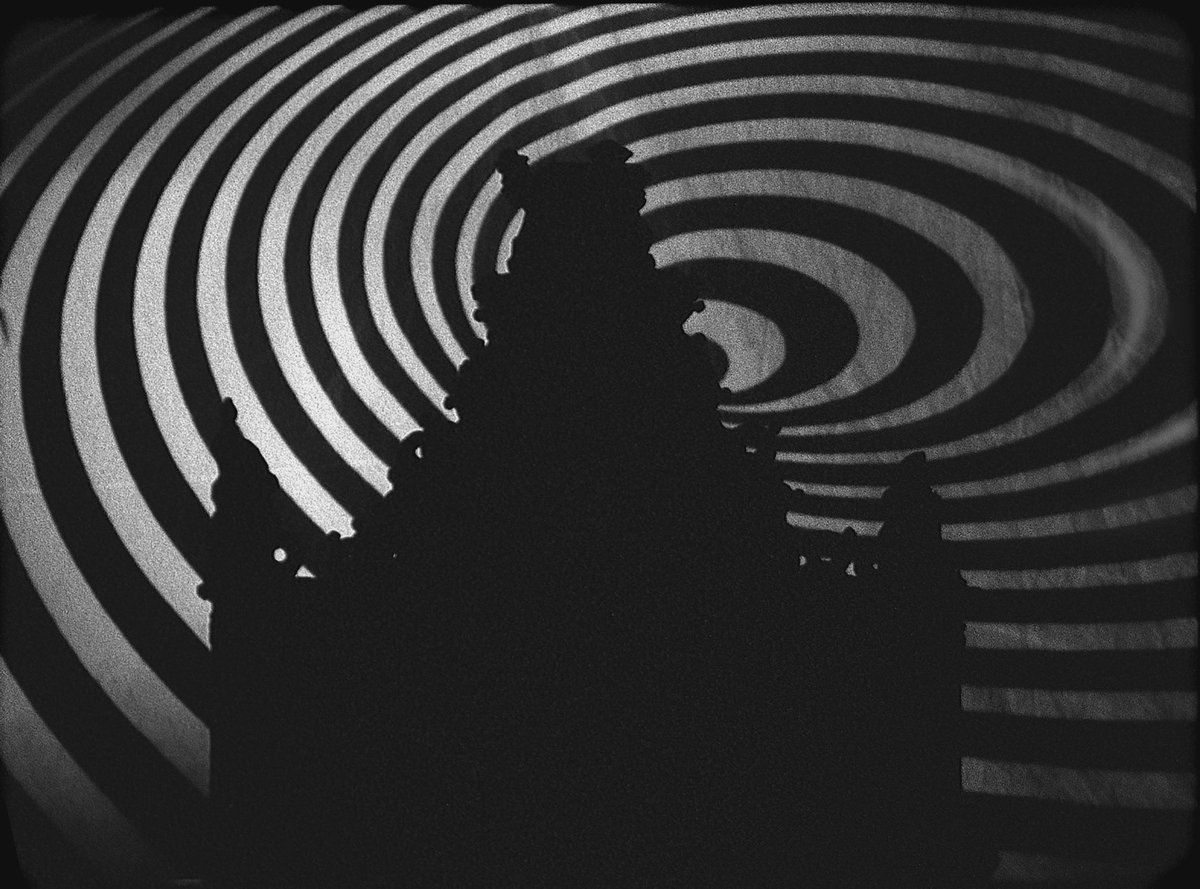 Filmed in the residence of artist and architect Karl Junker (1850-1912), Karen Russo's Junkerhaus brings the viewer into a mesmerizing space of elaborate ornamentation, that is the product of the architect's imagination. Junker designed the residence as a family home but, in reality, lived there on his own.
Junker dedicated his life to building his house in Lemgo, Germany. It features wood carvings covering surfaces throughout the space, and extending over floors, furniture, and every corner, like a spider's web. These decorative elements create a fascinating, almost oppressive, effect, given that he was the only inhabitant of this home.
In Junkerhaus, Russo captures reflections, projections, and light refractions that form abstract shapes and animate surfaces and structures in the house, producing a psychological portrait of the architect. The film offers a new appreciation of Junker's architecture as a mystical and visionary experience. Captured on 16mm film, with rich grain and texture, Junkerhaus reimagines the house's interior as an organic body, while connecting it to the natural world of the German forest. Here, bodies and buildings, matter and memory interact and combine, creating a psychological retreat that is situated outside of traditional structures.
ARTIST BIO
Karen Russo's multimedia practice makes use of document and narrative to explore how knowledge, perception, and culture entwine the rational with the obscure. By tracing marginalized practices, enigmatic phenomena, and esoteric forms of knowledge, Karen addresses the legacy of transgressive means for understanding the unseen and the unknown.
Karen studied fine arts at Bezalel Academy of Art & Design, Jerusalem. Her work has been exhibited in venues including The Barbican Centre, London; Hayward Gallery, London; V&A Museum, London; Tate Modern, London; Delfina, London; the Drawing Room, London; Jerwood Space, London; Paradise Row, London; Busan Biennial; Athens Biennial; Große Kunstschau Museum, Worpswede; Haus der Kulturen Der Welt: HKW, Berlin; Krefeld Museum, Krefeld; Arquebuse, Geneva; Kinokino Kunstsal, Sandnes; STILLS - Scotland's Centre for Photography, Edinburgh; the Israel Museum, Jerusalem; CCA, Tel-Aviv; Tel-Aviv Museum of Art, Tel-Aviv; Herzliya Museum of Contemporary Art, Herzliya, and more. 
Karen's films have been screened in festivals such as EMAF (European Media Art Festival), Werkleitz Festival, Kassel Dokfest, November Film Festival, Swedenborg Film Festival, Jerusalem Film Festival, and more. 
Recent awards and grants include: Swedenborg Festival (2021), Jerusalem Film Festival (2020), Oberhausen Film Festival (2020), Elephant Trust (2019), Award for an Established Video Artist, Ministry of Culture, Israel (2019), Outset Contemporary Art Fund (2018), Arts Council England (2016), Artis Exhibition Grant (Große Kunstschau Worpswede, Worpswede, Germany, 2015), Ostrovsky Family Fund for Experimental Cinema (2015), Arts Council England (2015), Cinema South Festival (2014), the Minister of Culture prize, Israel (2012), Center for Contemporary Art Fund for Video  & Experimental Cinema, Tel-Aviv (2011), Outset Contemporary Art Fund (2010), British Council (2010), Arts Council England (2009), Jerusalem Film Festival (2007), and Givon Prize from the Tel-Aviv Museum (2002). www.karenrusso.co.uk